"Salem and Grace Lutheran Churches join forces to help feed the hungry."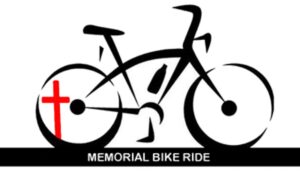 Be A Part!
Bike For Hunger
Our 35th annual Bike For Hunger is Saturday, September 24th. We will take off from Duluth and ride to Mahtowa and back for a total of 52 miles. However, you can ride half, or even part of the rail. Whatever you can do our support crew will be available for you and your bike.
We meet at 8:30 am at the beginning of the Munger behind the Munger to check in, get last minute instructions, pray, have a group photo and get on the trail by 9 am.
All pledges will go toward feeding the hungry- locally to our food shelves- and globally to the World Hunger Fund.
Want to join us in this ride on the Munger Trail for fellowship, exercise and a great cause?
We have a wonderful support team to make sure we stay safe and hydrated. If there is a problem, our crew will help. There will be a snacks and water along the trail to keep you going as well as lunch in Mahtowa.
Fill out the registration form that you can download (below) and mail to the church. You can also e-mail it to bikeforhunger@slecduluth.org and pay on the morning of the ride. Make sure you also print out a pledge sheet and start collecting pledges.
This is a good way to get your family and friends together for a great cause.
If you have any questions, contact the email above or call the church at 727-1357.
Did you know?
Collectively, we have ridden 40,000 miles – enough to circle the earth 1.5 times!
What started out as 4 riders has grown to over 30!
It's not only Salem riders- we have riders and support crew from Grace Lutheran in Hermantown and riders from many other denominations and walks of life.
We have raised over $120,000 to help feed the hungry.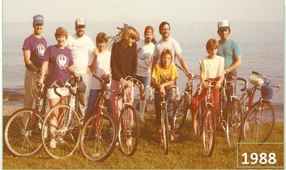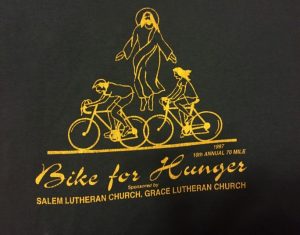 Began With A Desire To Help
It all began in 1987 when three cycling friends from Salem decided to they needed to "do something"- Bike for 70 miles to raise money to help feed the hungry. And it caught on as we continue the annual ride.
The first rides were on area roads and highways; mainly up the North shore on Highway 61. Dennis Lemay, one of the organizers, recalled buying smoked fish in Knife River for all the riders. Unfortunately, it didn't agree with some of the folks and it made for a very unpleasant ride.
Eventually the ride took a southern turn and went on Old Highway 61 to Barnum and back. Once the Munger Bike Trail was completed the ride moved to the much safer bike trail.
In 1997 our friends at Grace Lutheran Church of Hermantown joined our Bike For Hunger. And since then other members of of the community have ridden with us.
Each year we sport a special t-shirt to commemorate and advertise our ride. At left is a t-shirt from our 1997 ride.