"Salem and Grace Lutheran Churches join forces to help feed the hungry."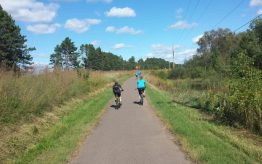 Be A Part!
Be part of the support team
Bike the whole ride
Bike part of the ride
Sponsor a rider
Bike For Hunger
Our 31st annual Bike For Hunger is September 8th. We will take off from Duluth and ride to Mahtowa and back.
All pledges will go toward feeding the hungry- locally to our local food shelf and globally to the World Hunger Fund.
Want to join us in the 60 mile ride on the Munger Trail for fellowship, exercise and a great cause? It's usually a 70 mile ride to Barnum, but work on the trail will keep it shorter this year.
We have a wonderful support team to make sure we stay safe, hydrated and well-fed. A barbecue lunch is provided at the half-way point.
Fill out the registration form that you can download (below) and mail or drop it off at church. You can also e-mail it to salem@slecduluth.org. Make sure you also print out a pledge sheet and start collecting pledges.
This is a great way to get your family and friends together for a great cause.
If you have any questions, contact Dave at Johnson4792@msn.com or call the church at
Did you know?
Collectively, we have ridden 40,000 miles in the past 30 years
And raised over $120,000 to help feed the hungry.