"Salem and Grace Lutheran Churches join forces to help feed the hungry."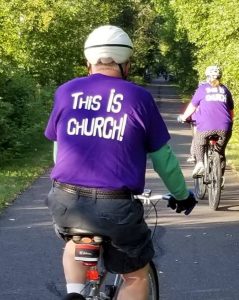 Be A Part!
Bike For Hunger
Our 33rd annual Bike For Hunger is Saturday, September 12th. We will take off from Duluth and ride to Carlton and back.
All pledges will go toward feeding the hungry- locally to our food shelf and globally to the World Hunger Fund.
Want to join us in this ride on the Munger Trail for fellowship, exercise and a great cause?
We have a wonderful support team to make sure we stay safe and , hydrated. There will be a snack at Carlton to help you get fuel your way back.
Fill out the registration form that you can download (below) and mail to the church. You can also e-mail it to bikeforhunger@slecduluth.org and pay on the morning of the ride. Make sure you also print out a pledge sheet and start collecting pledges.
This is a good way to get your family and friends together for a great cause.
If you have any questions, contact the email above or call the church at 727-1357.
Safety First!
Due to COVID -19 safety guidelines the ride will be restricted to 25 riders.
There will be a staggered start. To sign up for the ride and chose your start time go to this SIgn Up Genius link.
Did you know?
Collectively, we have ridden 40,000 miles – enough to circle the earth 1.5 times!
What started out as 4 riders has grown to over 30!
It's not only Salem riders- we have riders and support crew from Grace Lutheran in Hermantown and riders from many other denominations.
We have raised over $120,000 to help feed the hungry.