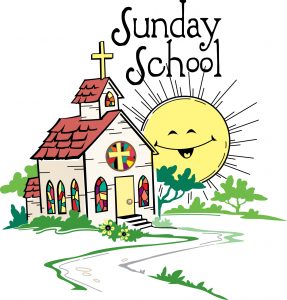 We're still here!
Sunday School will look a lot different this year, or at least begin differently.
As long s there is a real threat of the COVID-19 virus in our community we will not be meeting in the church for Sunday School. But, we still care about our children and want to remain connected with them until we can finally be together in person again. And what a joyous time that will be!
Until that time comes, here is the Salem Sunday School plan during the COVID pandemic:
Each child will receive a monthly packet of fun learning activities based on Bible stories.
There will be a monthly Sunday School gathering via Zoom for 2 separate age groups- Pre k- 1st grade and 2nd grade – 6th grade. These will be led by our teachers and last 10 to 15 minutes.
Each month there will be a short (15 minute) Zoom gathering for 2 separate age groups Pre K- 1st grade and 2nd grade – 6th grade. These will be led by our teachers.
Our children will have their own monthly newsletter- The Starburst. Look for it in your mailbox in early October.
For more information about Salem's Sunday School Program, teachers, curriculum, enrollment or any questions please contact us. We would love to hear from you and have a conversation about where you and your kids will fit into our church family!
Sunday School kick-off worship is October 11th! You won't want to miss it!
Park, Pray & Praise at 9 am in the parking lot, in your vehicle on 92.5 FM.
salemss@slecduluth.org